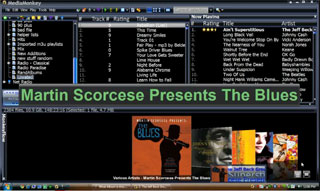 VoxCommando is an independent software application that adds voice control to a number of popular media player and home automation applications — not only Windows Media Center, but also XBMC, iTunes, MediaMonkey, MediaPortal,  and EventGhost.
We've been working with VoxCommando's author, James Richards, to help add direct support for the Amulet Voice Remote when used with VoxCommando.
His additions allow VoxCommando to automatically detect when the Amulet radio link is idle and turn off voice recognition to save CPU cycles. It also automatically lowers the music volume when the Amulet microphone is active, to avoid loud music interfering with spoken commands. On-screen indicators track the current microphone state to provide additional visual feedback.
If you're interested in Amulet, but not using Windows Media Center, or using a language other than English, this is great news — you can now use VoxCommando with Amulet and get all the benefits of voice control through a convenient hand-held device.
Here's a demo video that James recorded showing Amulet in action with VoxCommando and MediaMonkey:
James is enthusiastic about the Amulet Voice Remote, describing it as "the best solution yet, for those who do not wish to wear a headset." You can read more on the VoxCommando discussion forum.