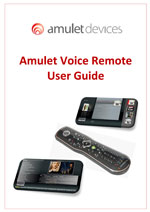 We've been keeping our heads down for the last few months at Amulet HQ as we finalise manufacturing details of the Voice Remote and put the finishing touches to the Media Center Plugin software and documentation.
EnGadget cleverly noticed that we recently achieved FCC approval for our MC accessory, which means that we'll soon be shipping units to our patient customers!
We've added some very useful new features to our Media Center Addon since Amulet's last public showing, not least of which is the ability to navigate anywhere in the TV guide using voice. For example, saying Goto Channel ESPN Next Tuesday at 7 PM will open the guide, navigate to Tuesday's program schedule, and tell you what is playing at 7 O'clock. You can then go ahead and select it for recording if you wish.
This works really well when you're watching TV and you see a new show being announced: "Tune in to Fox on Friday at 8 for all-new Futurama", for example. You can jump straight to the TV guide at that time, record the show, then close the guide and continue your viewing.
We're looking forward to finally getting the Amulet Voice Remote out into the hands of real users, so check back on 6 September when we'll have some news on shipping dates.