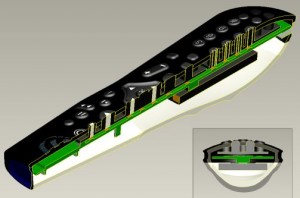 The design of our Voice Remote was one of the major steps that we had to accomplish to get to market. We had the Media Center Plugin software for a while, we had the Remote Control internal electronics for a while. These were needed first, to demonstrate the idea. But to make it real we needed a form. A shape to contain the magic. This was one of the most interesting aspects of the project for me. I have previously been involved in high volume consumer devices, but not something so tactile.
We worked with industrial designers to get to the final product. The first step was to give them a brief, the guidelines that we thought were needed to do the technology justice. The brief took a while to crystallize, but it soon became obvious after some discussion. A Voice Remote Control has to stand out from the crowd, because it's not just another remote control, it's got Voice! It has to look distinctive, and still function as an ergonomic, useable Media Center accessory. There were detailed aspects of the brief such as button type, layout and styling to meet Microsoft criteria for a Media Center Addon. And there were the higher level, aesthetic elements, which were summarized as a "distinctive, stylish, new Voice Remote".
The designers initially produced three prototypes which were used to examine possible directions — one of which is a close resemblance to what is now in the shops. The two that went by the wayside were interesting and we may yet do something with the design ideas they showed. We incorporated some aspects of each into the final design.