I decided to make a blog entry on my current MediaCenter setup. I've been using Microsoft MediaCenter for five years or so to provide my TV viewing experience; I've run it on many PC hardware boxes during that time, both off-the shelf and home-made, but my current Windows-7 MediaCenter is running on a home-made box. It's made from a 2.3 GHz quad-core Intel processor running on a Gigabyte GA-EP41 motherboard, with 4Gig of memory and 4Terabytes of storage.
I recently upgraded the graphics card to an NVidia GTX460 from a GT220. The upgrade became necessary when I upgraded my TV and started running everything in 1080p. The GT220 didn't quite have enough horsepower for the job and would produce an annoying flicker every now and then. I've always tried to run graphics with passive cooling to keep the noise down and thought that I'd not see the benefits of running a higher end gaming type card while in MediaCenter but after upgrading to the GTX460, it not only fixed the sporadic flicker/jitter, it produced a noticeable speedup in MediaCenter navigation and updating.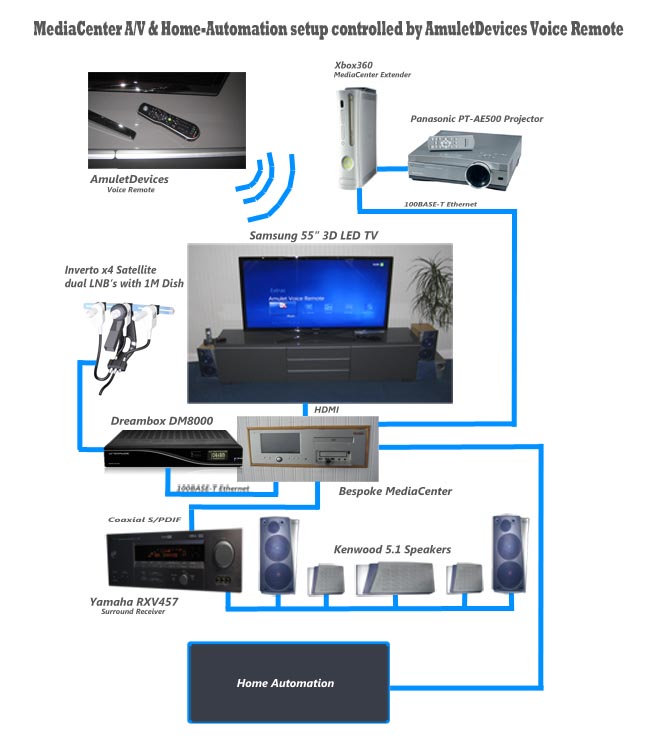 The MediaCenter is connected to a Samsung 55″ 3D LED TV over a 7.5Meter HDMI flat cable. I don't run the sound over the HDMI but have it switched to output over a coaxial cable to the Yamaha receiver for Pro Logic and 5.1 surround. The Samsung TV is a recent addition to the setup, it provides all the latest features including some that are made redundant because of the MediaCenter, such as the tuner, the internet TV widgets and the media streaming from PC over its built in Ethernet port. These features are just extras, the main feature that the TV was purchased for is the phenomenal picture quality. It's hard to describe the picture quality to someone who hasn't seen one of these new generation TV's but the picture is so good that when you're watching something in standard definition you have to remind yourself that it's not actually Hi-Def. That is until you switch to a Hi-Def channel! I don't know if it's the vibrancy of the LED technology, the 240hz refresh or the way the engine seems to filter MPEG noise, but the resulting picture really is exceptional.
The TV signal for the MediaCenter is supplied by a Dreambox, a DM8000. This set top box has three separate slots to take different types of tuners. I have mine configured for a dual Hi-Def DVB-S2 in slot 1, in slot 2 I have a DVB-T tuner to pick up the digital terrestrial channels that are being tested here in Ireland at the moment and in slot 3 I have a DVB-C cable tuner. The DM8000 runs PLi Jade2. It's important not to run anything newer than an Enigma 2 based image as there are known problems when using the newest images in conjunction with DVBLink for Dreambox by DVBLogic (more of which later).
The dual Hi-Def satellite tuner is connected through a double-coax to a 1Meter dish on the roof. This has an Inverto.tv quad system installed. The Inverto consists of four special slim dual-LNB's and a bracket (the LNB's are slim to allow the reception of multiple satellites that are only 3 degrees apart on the horizon) and x2 4-way Diseq switches. I bought the Inverto after reading that it was "a well-engineered system". I have to say I disagree with that. While the system does include some neat engineering to allow for adjustment of the LNB's in all axis, it is let down by some poor implementation. Problems include a flimsy plastic support arm that has to support the weight of both Diseq switches, not being able to get quite enough adjustment out of the brackets and a nut and screw arrangement that if over tightened will pull the nut right through a weak plastic bracket.
I'll probably upgrade the dish at some point to something like a Wavefrontier 90. This would allow for the use of even more LNB's while giving each one the signal from an equivalent 90cm dish and not having to compromise the signal to three out of the four LNB's as is the current arrangement. It's a pity I can't just use a motor, but I find having dual LNB's throughout is pretty essential when you have a MediaCenter for recording a second channel in the background while you're watching something on the other tuner and a motor doesn't allow tuning two separate sat's at the same time.
The Dreambox is connected to the MediaCenter over a gigabit Ethernet network, The Dreambox comes with just 100BaseT but this is sufficient to stream multiple Hi-Def streams (each one takes about 10Mbps). The TV streams on the Dreambox are integrated into MediaCenter by means of DVBLink for Dreambox, a wonderful piece of software by DVBLogic that acts as four virtual tuners. Once installed and configured on the MediaCenter you can run TV setup within MediaCenter and it will pick-up up to four tuners, there is no need for any configuration on the Dreambox side once the correct image is used. I have each side of the dual DVB-S2 tuner configured to a virtual tuner instance and the DVB-T tuner to a third instance. The DVB-T and DVB-S2 tuners share some channels and the DVBLink software allows these to be bonded together. It also allows for the MediaCenter TV guide to be sourced from the TV stream or from an XML source or from the ordinary MS provided EPG source. I have mine configured for the MS guide and use XML to fill in the gaps, I get the XML from DigiGuide and pull it using XMLTV GUI.
So now I have a MediaCenter that has about 4,000 TV channels between four satellites (of which about 400 make it into my favourites list), I have thousands of MP3's and photographs and bits of downloaded media. Getting to exactly what I want easily can be a bit of a chore. That's where the AmuletDevices Voice Remote comes in. It means that instead of using IR buttons to navigate through multiple screens in MediaCenter I can just say the name of the piece of media I want to play and it's done. With 400 TV channels it's not practical to remember the channel numbers, so pressing the number buttons isn't always an option. Instead I just raise the Amulet remote and say "Watch Channel Sky News" and it's done.
While all the button presses and MediaCenter pages etc do have voice tags implemented, that doesn't mean voice is the best control method for everything. For example, if I'm listening to a song playlist and I want to skip to the next track, I could say "Next Track" , but it's easier to just press the skip button on the remote. However there are a number of things that really are suited to voice. For example, when I'm watching a video or something recorded and I want to skip to a point 23 minutes and 7 seconds in, I just say "Skip to Twenty Three Minutes and Seven Seconds" and it's done. To do that without voice I'd have to rely on the FF or Skip buttons.
Another really cool thing is, if I'm watching TV and I hear the announcer say a new season of a show is starting next Wednesday at 9.00 on Channel 4.  To record it I can go to the MediaCenter TV guide and instead of having to plough through it, I just say "Show Channel Four at 9PM on Wednesday" and it takes me there and I can see if I want to record or not.
But the best thing is just being able to say things like "Play Playlist Electronic", "Play Slideshow Barbados" and "Turn Off All the Lights". Oh yeah, I forgot the home automation bit; I'll get to that in another blog post.